To earn the designation of Master Elite Roofing Contractor from GAF Corporation, the country's leading roofing materials manufacturer, our management and installation crews have completed rigorous training and testing to ensure that our installation methods and procedures meet the superior standards established by GAF.
A Complete Roofing System for Your Home
The GAF Weather Stopper roofing systems installed by Roofing & More are a complete structural system that ties together all roofing elements into a cohesive unit to provide the best protection for your home and family. We are one of the very few Virginia roofing contractors who can offer you this excellent system.
Our GAF Weather Stopper roof systems provide reliable protection for your home, adding lasting value with superior durability and performance. You'll rest easier knowing that a GAF roof from Roofing & More is protecting your family, your home and your lifestyle.
Homeowners Ultimate GAF Shingle Guide
Find the perfect shingle for your home. Download your copy of this PDF, compliments of Roofing & More and GAF. Ask your Roofing & More representative for more details and options on the shingle that is right for you.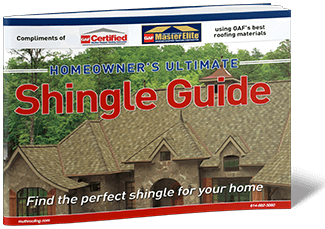 A Better Warranty for You
GAF offers the best roofing warranties in the industry. And because Roofing & More is a GAF MasterElite certified Virginia roofing contractor, you are assured that all GAF manufacturer warranties on roofing materials are fully valid. A Herndon roofer or Chantilly roofing contractor who is NOT GAF-certified cannot guarantee your warranty will be in effect when and if you need it. Part of our mission here at Roofing & More is to educate our customers, and one of the biggest aspects of that education covers the differences in types of warranties. Not all warranties are created equal and we want to help you choose the one that best fits your needs. Visit our GAF Roofing Warranties page for more information.
Get a FREE Northern Virginia Roofing Estimate
Call us or complete our convenient on-line "Get a Price" form to schedule a FREE roof assessment and estimate for your Northern Virginia roofing project.